General Store Information
battenburglace.com
E Mail: sales@battenburglace.us


Ordered by Phone
(214) 939-2623
You can
Pickup your order
at our Dallas Office.
---
---
Want to order smaller quantities
try our online store
battenburglacestore.com
---
Crocheted Lace Placemat
Crochet Lace doilies.
Round Doilies
White or Ecru color

Sun Flowers pattern designs.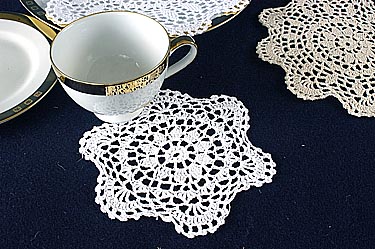 Crocheted Round doilies
6" Round doily.
White and Ecru color
Sun Flowers patterns.


Crocheted
doilies.


10" Round doily
Sun Flowers patterns.

Crocheted Lace Doilies.
12" Round (front left) / 8" Round (Front Right)
10" (Back Left), 6" (Back Right)

Sun Flowers patterns.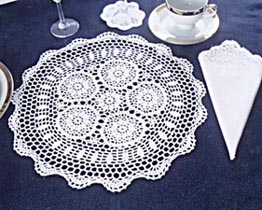 Crochet

Placemat




Large

16" and 18"

round placemats


White or Ecru color
4" round crochet lace doily
US$

12.

00 dozen
White OR Ecru color
Sold by the dozen
6" round crochet lace doily
US$

16

.00 dozen
White OR Ecru color
Sold by the dozen
8" round crochet lace doily
US$

24

.00 dozen
White OR Ecru color
Sold by the dozen
10" round crochet lace doily
US$

42

.00 dozen
White OR Ecru color
Sold by the dozen
12" round crochet lace doily
US$

56

.00 dozen
White OR Ecru color
Sold by the dozen
14" round crochet lace doily
US$

72

.00 dozen
White OR Ecru color
Sold by the dozen
16" round crochet lace doily
US$

84.

00 dozen
White OR Ecru color
Sold by the dozen
18" round crochet lace doily
US$

96

.00 dozen
White OR Ecru color
Sold by the dozen