The Battenburg Lace Store,
Inc
---
---
Like to order
merchandise now?
Please clicks.
Order by Phone: 214.939.2623
---
Like to send a
gift to your friends for
holidays/birthdays ?
Please clicks here.
---

Runner. Runner Battenburg Lace. Lace runner.
Runner. Tablecloth.
Princess Anne Style
Battenburg Lace
Rectangular Design
Table Runner / Dresser Scarf
White or ecru color. All cotton.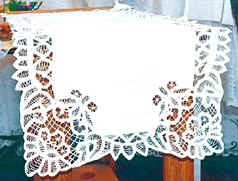 Table Runner. Runner Rectangular.
Dresser Scarves / Rectangular Design
16" x 30" rectangular
US$

2

0.00 each
white or ecru color
16" x 54" rectangular
US$

38

.00 each

ecru color

16" x 72" rectangular
US$

48.

00 each

ecru color

16" x 90" rectangular
US$

58

.00 each
Ecru color
16" x 108" rectangular
US$

68

.00 each
white or ecru color
16" x 126" rectangular
US$

78

.00 each
white or ecru color
Runner Oval Battenburg Lace
Princess Anne Style
OVAL runner
Battenburg Lace Design
Table Runner / Dresser Scarf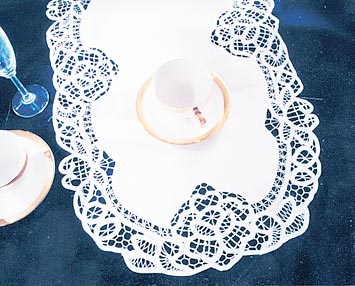 16" x 30" oval
US$

2

0.00 each
white or ecru color.
16" x 45" oval
US$

28

.00 each

ecru color.

16" x 54" oval
US$

38

.00 each

ecru color

16" x 72" oval
US$

48

.00 each
white or ecru color
16" x 90" oval
US$

58

.00 each
white or ecru color